Here is another of the "Have you hugged a cactus today?" bumper stickers with two cactus flower mandalas and the Cactus Hugger URL. One mandala is made with jumping chollas and the other with magenta hedgehogs. Other combinations are possible. Specify what mandalas you want, and I will make it up for you.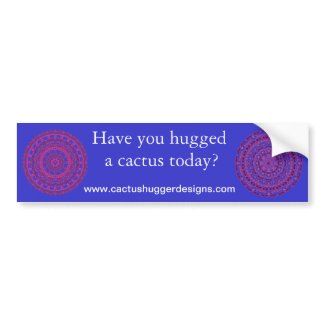 Have You Hugged Bumper Sticker
by
robert_coyne
Make
bumper stickers
at zazzle
This is the bumper sticker as it appears on Zazzle.
*******
I figure that bumper stickers are good advertising, so if any of you want one, let me know and I will send you one for free.